By using this web site you agree to our
Terms
40 & 49 Passenger C.O.I. water taxi General Arrangements - 40 PAX $165,000.00 - 49 PAX $189,000.00 Includes stability test, Twin Mercury OBs, Bench Seats.

Below Stability test on 33 x 11 COI Water Taxi

Your browser does not support the video tag.
Exclusive HighSpeedWaterTaxi.Com


38' x 12' High Speed 50 Passenger Aluminum enclosed cabin, A/C twin Suzuki 200 to 350 HP, restroom, Soft individual seating, Speed 40+ mph, cruises smoother than a mono hull in choppy water. Six months lead time. $279,000.00
Latest High Speed Non COI 52' 40 passenger water taxi
| | | |
| --- | --- | --- |
| Your browser does not support the video tag. | | |
---
Turn Key 52' 40 passenger High Speed Water Taxi - global shipping included ! $259,000.00 *
Contact us for details
The 33 x 11 water taxi for export NON COI is available from $85,000.00 with restroom, bench seats for 35, 100 gallon fuel tank, console, railing; outboard engines and accessories additional. Price is FOB Cincinnati, Ohio. Custom pricing available after order confirmation or design consultation is received. Cincinnati, Ohio Prices do not include safety equipment. Expect to spend from $3500.00 or more for life jackets, life ring, radio buoy etc...
New 11m x 3m 30 passenger
$59,990.00 plus power
33' x 11' 35
passenger $129,000
38' Bubble Cat
50 Passenger 38' x 12'
Turn Key Price FOB Cincinnati
$249,000.00
Hull only
$67,500.00
Turn Key woth 60 Hp
OB $82,500.00
Three months build time
Fiberglass Hull construction
Made for semi protected waters (See attached US Reg. SUBCHAPTER T-SMALL PASSENGER VESSELS PAGE 184: Partially protected waters is a term used in connection with stability criteria and means: (1) Waters not more than 20 nautical miles from the mouth of a harbor of safe refuge)
100 gal fuel tank
Hydraulic steering
Canvas rails (39" high)
Twin counter 150 Hp Evenrude E Tec engines (propellers, controls, key switch, throttle extra)
Bench seats for 36 to 45
captains chair
steering console
40" x 40" restroom with manual toilet, 25 gal (plastic) waste tank
navigation lights
two 1500 gph RULE bilge pumps
two economy 12 v engine batteries
15. 6 10" ss ceats
Individual seats or seats other than standard bench seats are priced after the order is placed.
See through screen mesh for front rail canvas on bow $1200
See through stitched clear vinyl for front rail canvas on bow $2500
C.O.I. with N.A. Stability test $45,000.00
Hydraulic steering starts at $2100.00 w/ hub, cylinders, hoses; installation $350.00
rigging, mechanical, electrical, sewage, bilge, fuel systems full installations performed at $40.00 per man hour plus materials and shop supplie17. full length canopy frame with canvas $7500.00 (bolt together assembly add $600)
Steel cradle for shipping $2800.00
engine installation $2500 (engines included in vessel are not installed but supplied with vessel, if we install we remove after installation for shipping)
two aluminum engine brackets installed $2900.00
14 gal fresh water spray outside restroom $750.00
fresh water basin in restroom $850
electric toilet $450
lights under canopy other than navigation lights $550
spot light remote control $800
Lowrance GPS Depth Sounder Elite-5X or compatible $775
All synthetic construction, no wood used, includes through bolting accessories $3500.00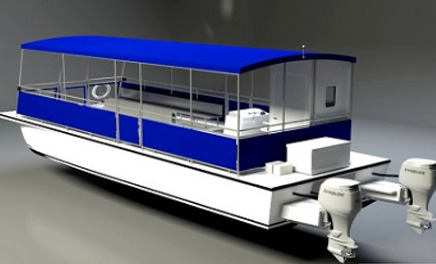 In some counties it is easier and faster to transport passengers along the seashore than to drive the crude coastal roadways. These water taxis are made more durable than any other builder; designed to endure high traffic our hull bottoms are 18mm thick and on the sides 8mm thick. We also make the same hulls for inland lakes and rivers. Our 322 foot water taxi carries up to 25 passengers with comfort and we ship inside a 40 foot container for easy and low cost shipping. For the next size larger passenger boat we make a 38 foot that carries 30 passengers.
From Halifax to Cabo we have built RHIB Inflatable Boats type water taxi boats for whale watching tour companies who ferry passengers out for whale watching excursions at high speeds. The RHIB Inflatable Boat type sizes start at 36 feet. All models can be set up for outboards or inboard engines. If necessary for use in U.S. waterways we have C.O.I. water taxis made to order. For C.O.I. models you should know that outboard powered water taxi boats must be made with fire retardant materials and that is an additional cost not associated with inboard diesel models. Consider the convenience of outboards comes with the higher material prices. These regulations are for U.S. and U.S. territorial waters only. Send us an email for the best prices on any of our water taxi models made to order. Orders generally take 90 to 120 days to deliver from time of order.